Discreet shipping
 service 
anywhere In the world !!!
Sissy Maid Lockable Dress G3963
Adding to cart succeed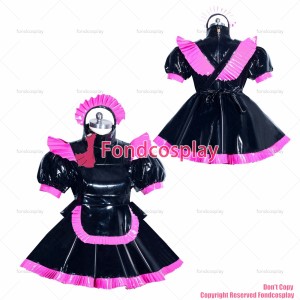 Sissy Maid Lockable Dress G3963
color:red,size:xxl
Elegant High Neck Sissy Maid Dress with Frills

Introduction:

Discover the beauty of this luxurious short Sissy maid dress, featuring an elegant high neck and adorned with an abundance of exquisite frills. The dress is accompanied by an amazing apron, also trimmed with deep frills, and a lovely headpiece, making it an essential addition to every Sissy's closet. With custom-made design and German detailed workmanship, you'll enjoy a perfect fit and years of joy. Choose from a variety of glossy fabrics and colors, and personalize your dress with additional options to create your dream ensemble.

Features:

Elegant high neck: The dress boasts a sophisticated high neck design, enhancing its elegance.
Wonderful frills: The dress and apron are adorned with exquisite frills for a luxurious appearance.
Matching apron and headpiece: The set includes a coordinating apron with a big bow at the back and a lovely headpiece.
Custom-made design: Each dress is tailor-made for a perfect fit and superior comfort.
German detailed workmanship: Expert craftsmanship ensures a stunning and durable design that will last for years.
Zipper closure: The dress features a back zipper closure, with an optional front zipper, for easy wear, while elastic sleeves provide added comfort.
Color and fabric options: Choose from an array of glossy fabrics and colors to create your dream dress.
Additional options: Customize your dress with a variety of additional features to make it truly unique, such as lockable zippers, high neck, long sleeves, matching petticoat, panties, and garters.
Company Info
Company Policies
Payment & Shipping
Newsletter