Discreet shipping
 service 
anywhere In the world !!!
Black Sissy Maid Faux Leather Buttons Short Dress G3747
Free Shipping
Adding to cart succeed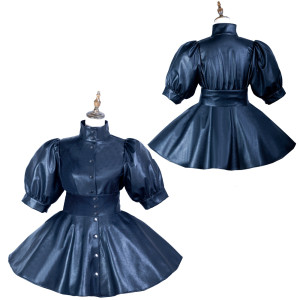 Black Sissy Maid Faux Leather Buttons Short Dress G3747
color:red,size:xxl
Exquisite Buttoned Leatherette Dress: Embrace Elegance with Unforgettable Style

Introduction: Indulge in the allure of our fantastic Buttoned Leatherette Dress, designed exclusively to captivate attention and elevate your fashion game. This stunning short dress combines the luxurious appeal of leatherette with a chic buttoned design, making it a must-have for every lady who seeks to make a statement at any party. Crafted with the utmost precision, our custom-made dress ensures a flawless fit and is meticulously handcrafted with love, promising years of joy. In this article, we will explore the exceptional features and qualities of this exquisite buttoned leatherette dress, showcasing its unmatched quality and undeniable charm.

Features:

Highest Quality Custom Design: Our buttoned leatherette dress is meticulously designed to ensure a perfect fit. Each dress is tailored with precision to accentuate your figure and provide unparalleled comfort. Detailed Handmade Design: Our skilled artisans invest their expertise and passion into every detail, ensuring a dress that is not only visually stunning but also built to withstand the test of time. Luxurious Leatherette Fabric: Spoil yourself with the sumptuous feeling of smooth and soft leatherette against your skin. The high-quality leatherette used in our dress is both eudermic and exceptionally smooth, offering a luxurious wearing experience. Front Buttoned Closure: The dress features a front buttoned closure, adding a touch of sophistication and versatility to the design. You can easily adjust the buttons to create different looks and styles. Description: Our buttoned leatherette dress is a celebration of fashion excellence. It effortlessly combines the elegance of leatherette with a flattering silhouette, ensuring you stand out in any crowd. The attention to detail in its handmade design guarantees a garment that not only looks stunning but also provides long-lasting enjoyment.

The luxurious leatherette fabric offers a sensation of opulence against your skin. Its smooth texture and high-quality composition ensure a comfortable and indulgent wearing experience. You'll feel both stylish and pampered in this exceptional dress.

The front buttoned closure adds a touch of sophistication and versatility to the dress. You can create various looks by adjusting the buttons, allowing you to adapt your style to different occasions and moods.

Indulge yourself in the irresistible charm of our buttoned leatherette dress. With its impeccable design, superior craftsmanship, and premium fabric, it's a true embodiment of elegance and style. Make a lasting impression and exude confidence with this remarkable addition to your wardrobe.
Company Info
Company Policies
Payment & Shipping
Newsletter