Discreet shipping
 service 
anywhere In the world !!!
Sissy Maid Lockable Dress G3943
Free Shipping
Adding to cart succeed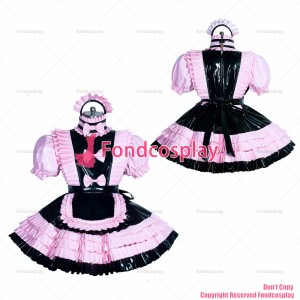 Sissy Maid Lockable Dress G3943
color:red,size:xxl
Eye-catching Baby Pink and Black PVC Sissy Maid Dress: A Frilly Dream Come True

Introduction:

Step into a frilly dream with this exclusive and stunning short Sissy maid dress made of baby pink and black PVC, embellished with an abundance of deep PVC frills and cute big PVC bows. This must-have Sissy maid dress is perfect for any party and guaranteed to attract attention.

Features:

Baby pink and black PVC design: The eye-catching combination of baby pink and black PVC creates a bold and stylish look.
Deep PVC frills and big PVC bows: The dress is lavishly adorned with deep PVC frills and accented with cute big PVC bows for a playful and dreamy appearance.
Matching frilly apron and headpiece: The dress includes a coordinating frilly apron that ties with a big bow at the back and a matching headpiece/cap to complete the ensemble.
Custom-made design: Each dress is tailored for the perfect fit, ensuring both comfort and style.
Handcrafted with love: The meticulous attention to detail and expert craftsmanship guarantee a beautiful design that will bring joy for years to come.
Back zipper and elastic sleeves: The dress features a back zipper for easy wear, while the elastic sleeves provide added comfort.
Company Info
Company Policies
Payment & Shipping
Newsletter