Discreet shipping
 service 
anywhere In the world !!!
Sissy Maid Lockable Dress G797
Free Shipping
Adding to cart succeed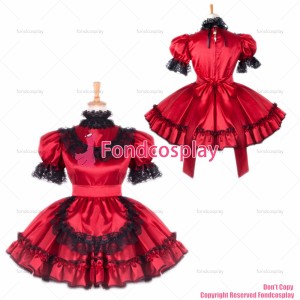 Sissy Maid Lockable Dress G797
color:red,size:xxl
Customizable Sissy Maid Dress: Exclusive Design for a Captivating Party Look

Introduction:

Dive into the frilly dream with this exclusive, amazing short Sissy maid dress featuring an elegant high neck, extravagantly trimmed with lace and deep frills. A must-have for every Sissy maid and a guaranteed eye-catcher at any party, this dress is designed to make a statement.

Features:

Elegant high neck: The sophisticated high-neck design adds a touch of class to this stunning Sissy maid dress.
Lace and deep frill trimmings: The intricate lace and deep frill trimmings create a delicate and visually appealing contrast.
Frilly full apron and headpiece: The dress comes with a matching frilly full apron that ties with a big bow at the back, and a coordinating headpiece/cap to complete the look.
Custom-made design: Each dress is tailor-made for the perfect fit, ensuring both comfort and style.
Handcrafted with love: The meticulous attention to detail and expert craftsmanship guarantee a beautiful design that will bring joy for years to come.
Back zipper and elastic sleeves: The dress features a back zipper for easy wear, while the elastic sleeves provide added comfort.
Available in various glossy colors and fabrics: Customize the dress in a variety of vibrant colors and fabrics to suit your personal style.
Sample design in red satin and black lace: The design shown in the photo features red satin with black lace, highlighting the customization possibilities.

Additional Options and Products: Choose from various additional options to personalize your dress, and explore our shop for more amazing custom-made designs and a wide range of fabulous products, such as realistic female silicone masks, soft silicone breasts, sexy high heels and corsets, silky wigs, stunning hosiery and nylons, and much more.
Company Info
Company Policies
Payment & Shipping
Newsletter