Discreet shipping
 service 
anywhere In the world !!!
Sissy Maid Lockable Dress G3765
Adding to cart succeed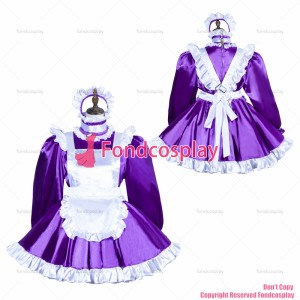 Sissy Maid Lockable Dress G3765
color:red,size:xxl
The Ultimate Sissy Maid Dress: Exclusive and Handcrafted for Unmatched Elegance

Introduction:

Indulge in a frilly dream with this exclusive, stunning short Sissy maid dress, perfect for every Sissy maid and an attention-grabber at any party! Meticulously designed and custom-made, this glossy purple satin dress adorned with deep white frills and satin trimmings showcases the utmost elegance in a high-neck silhouette.

Features:

Elegant high neck: The sophisticated high-neck design adds a touch of class to this captivating Sissy maid dress.
Glossy purple satin: The vibrant purple satin fabric exudes luxury and ensures you stand out in any crowd.
White frills and satin trimmings: The deep white frills and satin trimmings provide a delicate and eye-catching contrast to the purple satin.
Full frilly apron and headpiece: The dress comes with a matching full frilly apron that ties with a big bow at the back, and a coordinating headpiece/cap to complete the look.
Custom-made design: Each dress is custom-made for the perfect fit, ensuring both comfort and style.
Handcrafted with love: The attention to detail and expert craftsmanship guarantee a beautiful design that will bring joy for years to come.
Back zipper and elastic sleeves: The dress features a back zipper for easy wear, while the elastic sleeves provide added comfort.
Company Info
Company Policies
Payment & Shipping
Newsletter